Module: Club
____________________________________
Module club keeps basic App data which are used for running the App and App Cloud registration.
Please be careful while filling in the data for state, club and registration e-mail as all data in the App are depended on the key "state + club+ reg.mail".
After Cloud registration we strongly advice against changing the "state and reg.mail".
Club registration code can be changed during uploading results.
For registration of your data you need a club registration key which was valid during your cloud registration.
If you make a mistake during filling in the mentioned data above and you register the App on Cloud you would not be able to pair your data to another device or share it with other trainers and swimmers.
Registration of the App on Cloud is done base on manual, which will show up after pressing a button "How to register App on Cloud. Important reminders.
Your registration code – we advise to fill in an e-mail which you used for your App ID (e-mail). This will enable you to fully refresh App data from Cloud or use App on many devices (e.g. IPad) from version 14.0.
It will also enable you to pair with iSwimCoach (App for iPhone) from version 3.0 . Your registration phone number (mobile) – please input your number in international format e.g. 00420XXXXXXX.
This number is needed for sending SMS which will contain code that can be used by other trainers or your swimmers to access your App data via Cloud. Without this code nobody can access your data expect you.
Club registration code – input code which you use for competitions. If you want to use different Registration code for your club while uploading results in foreign country, all you need to do is change the code in module Team and then upload results. Afterward return the Registration code back.
Main trainer for registering results - here input trainer's e-mail (App ID) who is responsible for uploading club results.
App will automatically download Club results uploaded into the Cloud. If in the whole club only you have the App then put in your e-mail.
If you have more devices, then change on one device will be reflected on all.
Access to Cloud paid from your device Is required for data refresh from Cloud and sharing of data between more devices.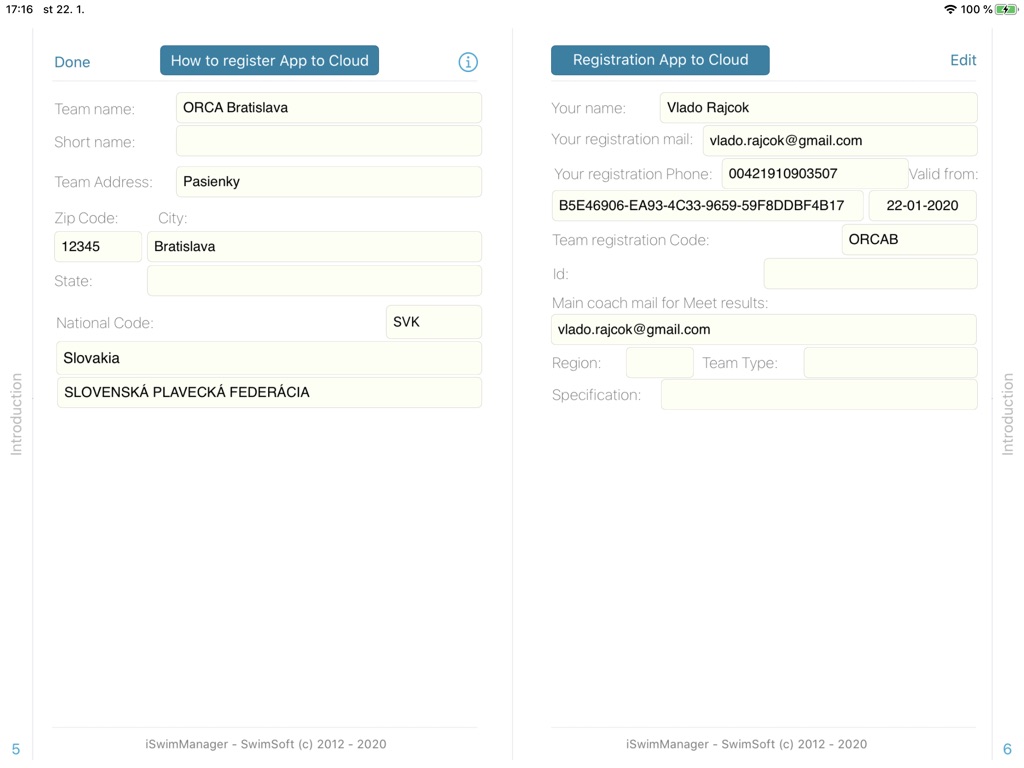 stat
+
klub
+
reg.mail
"
,
Dejte
si
na
jejich
vyplnění
záležet
.
Po
registraci
na cloud
nedoporučujum
v
žádném případě
měnit
"
stat
a
reg.mail
"
.
registrační
kod
klubu
je možné
měnit
při nahrávání
výsledků
.
Pro evidenci
Vašich
dat
se
bere
první
zapsaný
registrační
kod
klubu.
Pokud
se
spletete
a
App
se
zaregistruje
na
cloud
,
nedokážete
Vaše
data
spárovat
na
ine
zařízení
ani je
poskytnout
jiným
trenérem
nebo
plavcům
.